You may not have thought of it, given people's reservations about the commute and also the high cost of living, but London has been named in several recent surveys as the "best city to work in the world".
The capital claimed first place above the likes of Sydney and Amsterdam in the Global Finance report with London's "strength in culture, accessibility, and surprisingly strong population growth" pushing it above and beyond every other city in the world.
London also came top in a Glassdoor survey - named the UK's best city for job satisfaction. It beat the likes of Brighton, Bristol, and Oxford.
At Truffle HQ, we have been seeing a rise in some really exciting creative jobs in the capital, so we think now is as good a time as ever to drop our 5 reasons why you should work in the capital.
1. The Commute is not as crowded
We're kicking things off with the commute. With fewer people on the tubes and overland trains, things are a lot less congested post-Covid than they were before.
According to the Financial Times this week, "travel via the Tube to the City of London is about half of what it was before coronavirus hit."
Sure, travel is still pricey, but at least you stand more chance of getting a seat and making it to work looking less like Worzel Gummidge.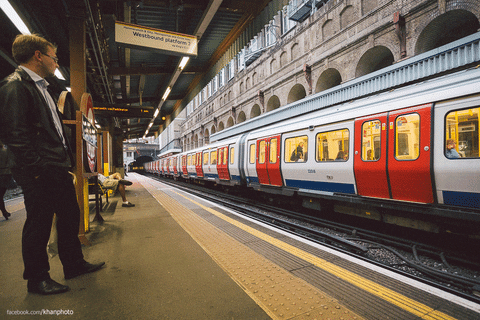 2. A Booming FinTech Hub
London, despite Brexit, is still seen as the technology capital of Europe with hundreds of start-ups blossoming in the city and around 32 companies at unicorn status.
We can also assure you that employment is strong, given the number of jobs coming through. Staffing levels at Britain's tech firms increased at the fastest rate on record in the last quarter of 2021 and three million people, or 9% of the UK workforce, are employed in the industry. Following a £13.5bn investment into UK tech in the first half of 2021, companies are hiring big time.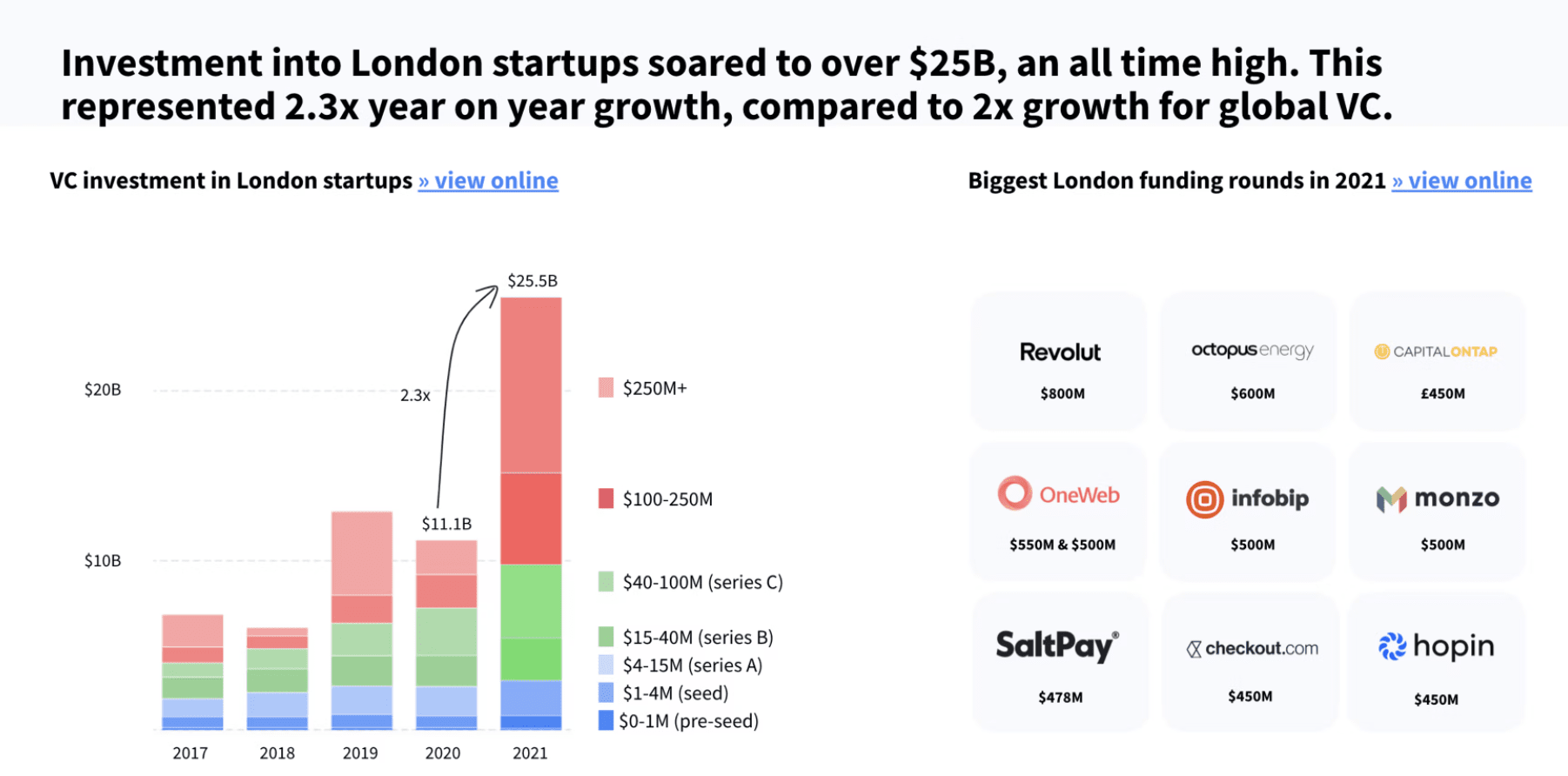 3. Wages Are Higher
An obvious one, given the cost of living is higher, but the average Designer salary in London is £55,843. This is 22.8% more than the average national salary for Designer jobs. The average London Designer salary is 26.0% more than the average salary across London.  As women founders, we know the pay gap for females still needs addressing, but women are still better paid in London than anywhere else in the UK. The Body Shop recently analysed 40 cities across the country to assess where women are paid the most, wages in London for women were by far the highest at an average of £45,500.
4. Cultural Scene - Art & Design
If you're working in London, chances are you're going to want to let your hair down and enjoy a night out or maybe go exploring during your lunch break. London is the place to do it with art and design playing an essential role in London's incredibly unique cultural scene.  According to Timeout mag, there are an estimated 1,500 permanent exhibition spaces in the capital, most of them free. So, whether you're looking for contemporary or classical, modernism or old masters, there's going to be something to spark your interest.
For example, if you head to the Design Museum you can catch the brilliant exhibition that's on right now called Football: Designing the Beautiful Game. There you will see more than 500 pieces from the world of football from films and interviews to boots and posters and can look at the design ideas behind the world's most famous football stadiums, kits and clubs, as told by some of the game's most famous names. Knock off work early and catch it before the final whistle blows.
Address: Football: Designing the Beautiful Game, The Design Museum, 224-238 Kensington High Street, London W8 6AG
Website: designmuseum.org
Dates: until Monday 29 August 2022
5. Food and Drink
This is probably our fave thing to do in London and us Trufflers have been known to have an extended working lunch as a team on quite a few occasions!
London is arguably one of the world's most influential restaurant cities, and is now home to a slew of chefs who have been redefining food, not only that, but London boasts some of the best bars and coffee shops and after two devastating years for the hospitality industry, any excuse to raise a glass or eat some truffle laced steak is a welcome one. Indeed only this week GQ Magazine held their eighth annual Food & Drink Awards presented by Veuve Clicquot, where a record number of the public voted for their hospitality favourites. London-based restaurants and hospitality titans took home 13 of the 16 awards handed out, including Mayfair's Indian restaurant BiBi which was crowned GQ's Best Restaurant for 2022.
We truly believe this is another bonafide reason to work in the capital.  The options are endless. Don't take our word for it, check out this great little run-down of some of the places to eat in the city: www.timeout.com/london/restaurants/best-restaurants-in-london.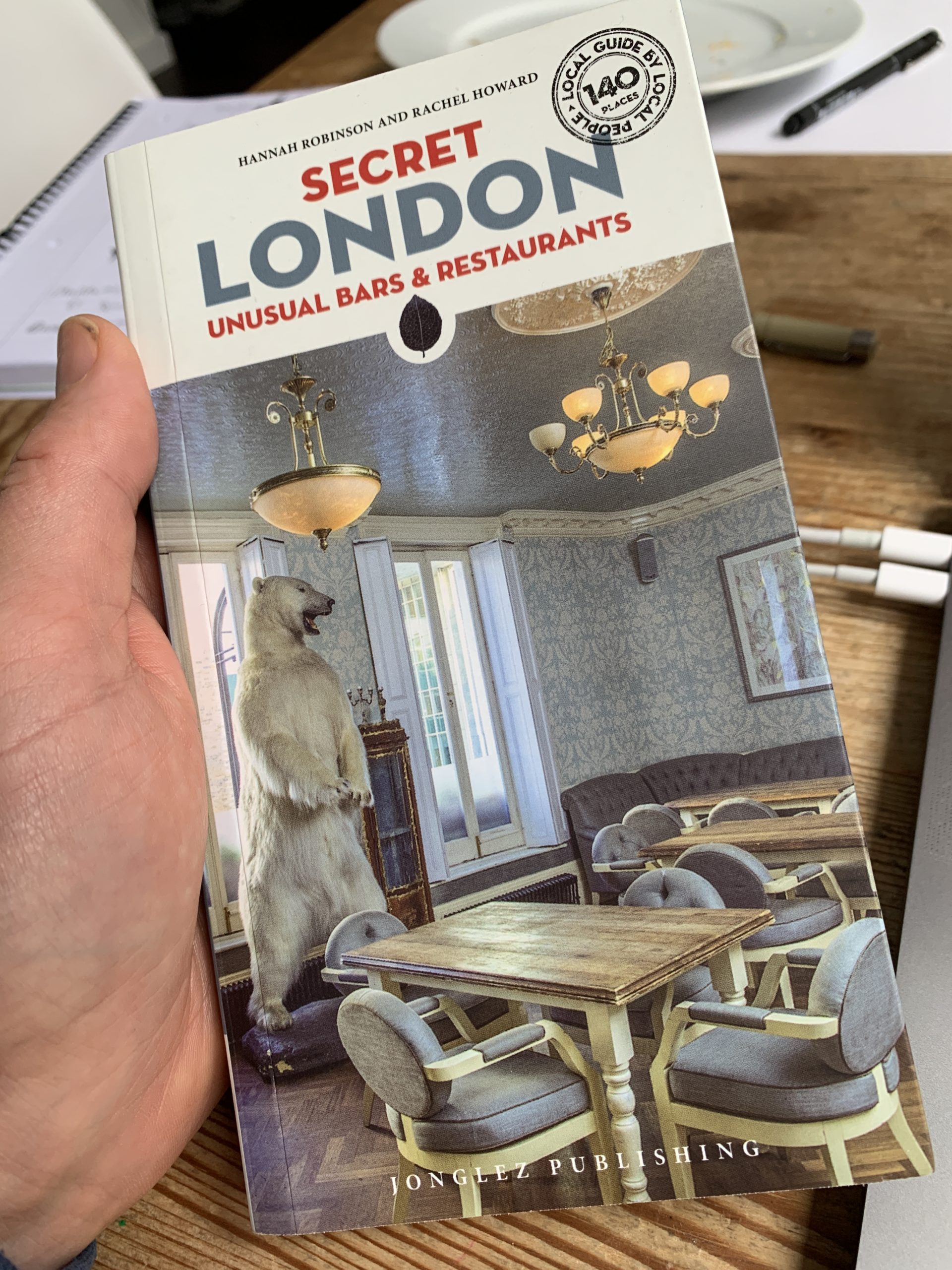 So that's it, our 5 reasons to work in London. Now obviously, you're going to need a job first. So that's where we come in and we'll be glad to help. Head here to see all our latest jobs in design and creative in and around the wonderful capital that is London.
It might not come as a surprise to many that we're seeing more and more hybrid jobs being registered with us at Truffle Talent. In fact, almost all our live jobs right now require a degree of flexible hybrid working, whereas before creatives were traditionally expected to work in studios and be present 5 days a week in-house.
The change we're seeing is the same for permanent and freelance workers.
Indeed the effects of the pandemic have, in part, led to around 87% of UK businesses adopting hybrid working habits, and employees now value "work from anywhere" flexibility as much as a 10% pay raise, according to new research.
Does Productivity Go Up or Down?
Whilst the issue of hybrid working has been questioned by some, citing productivity concerns and tactical issues around observing and coaching employees, all the signs so far suggest that hybrid working elevates productivity and doesn't hinder it.
Research by PwC that draws upon the views of almost 4,000 business and HR leaders from 26 countries and regions and 28 industry sectors shows that most companies have boosted workforce productivity and performance during and after the pandemic. The survey found that:
"Remote and hybrid working has provided a short-term productivity boost in most workplaces, with 57% of respondents saying their organisation performed better against workforce performance and productivity targets over the past 12 months, compared to a mere 4% saying their company performed significantly worse in that time."
Our research might be a little cruder...  In a recent poll we conducted on our own Linkedin Page we asked people whether they were more productive at home, the office or in another space. The results? Drum roll...working from home.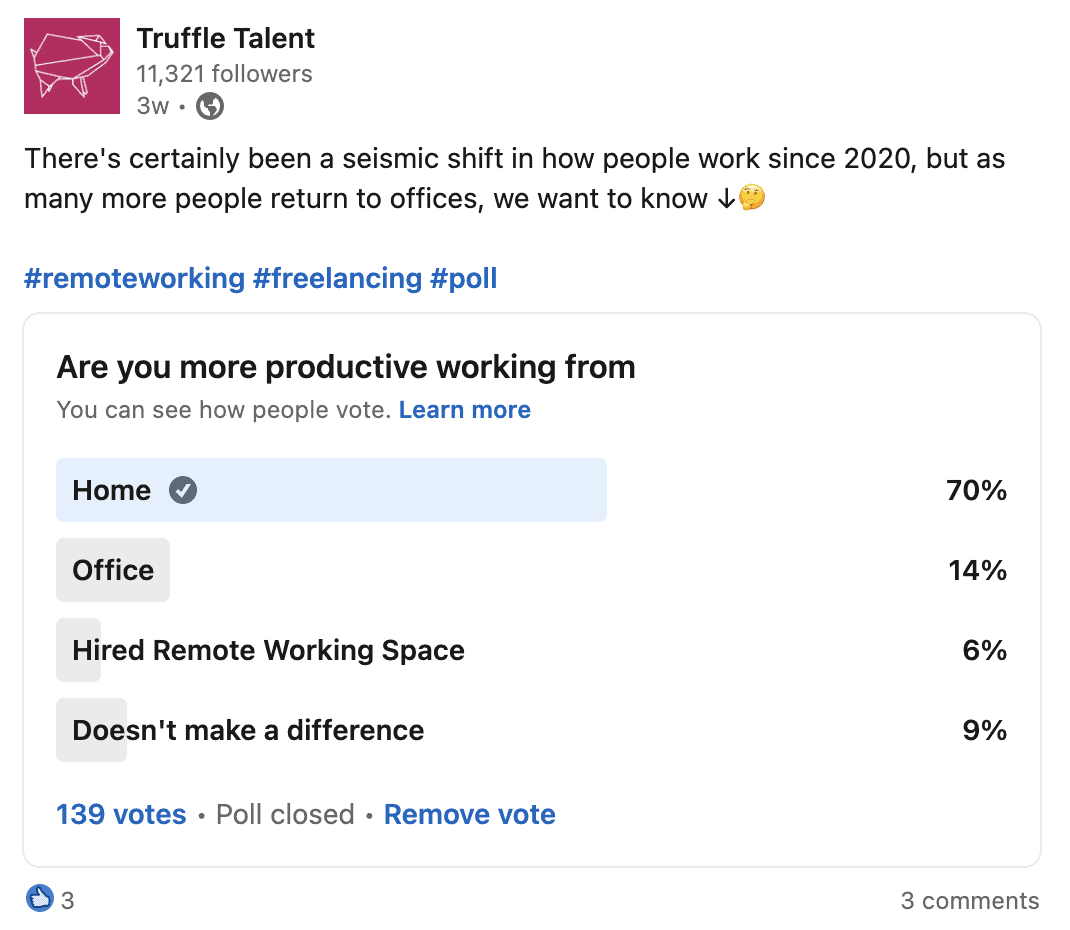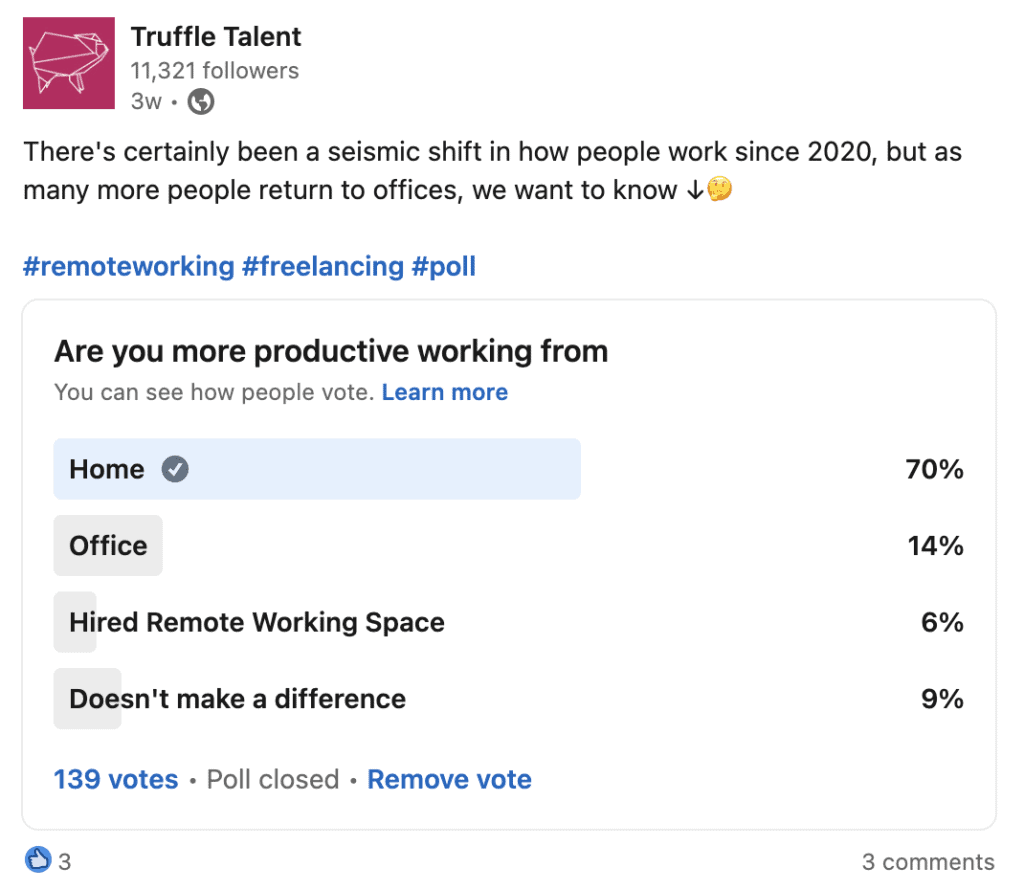 There are a lot of compelling reasons for a shift to hybrid working. In a recent research study by Envoy, the biggest return-to-work deal-breakers are long or expensive commutes (35%), a disregard for Covid safety precautions (31%), no flexibility in work hours or days spent in the office (28%), and dealing with challenging or chatty coworkers (21%).
It would seem people are not so fussed about those water-cooler moments after all.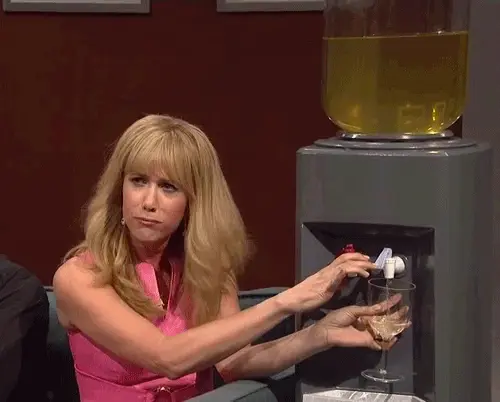 Staying Creative
Of course, for the design industry, there's the whole question of how you stay creative as a team.
In a recent article by Creative Review co-founder of DixonBaxi, Simon Dixon revealed how his agency had embraced a hybrid working model and also implemented a 4-day working week while still putting creativity front and centre of what they do. He said: "We were honest with our team that while we were never going back to a five-day week, we believe being together is important. Creativity is tribal."
DixonBaxi works flexibly on Mondays and Tuesdays and has face-to-face studio time on Wednesdays and Thursdays. They keep Friday mornings flexible and the studio closes at lunchtime so people can recharge. It's working for them.
Keep Talent Happy
Ultimately every organisation, agency, creative outfit, and this includes freelancers, are different. It's important we remain agile and open-minded about flexible working and embrace the benefits of it. Employee wellbeing is more important than ever, and employees expect employers to support their work-life balance.
We believe businesses need to recognise these changes and put in place the support that will encourage wellbeing among staff so that they can retain the best talent be that at home, the office or anywhere else for that matter.
The creative market is moving very fast, despite signs that the economy is slowing down, and now the expectations of creatives and designers are as high as ever. But help is at hand from us Trufflettes with our simple tips on how to stay relevant in the creative industry.
Learn New Skills
Get yourself onto a course, there is so much going on within strategy, development, user experience, product and service design, and so much to learn. There are online courses if you're stuck for time and meatier 3-month quickfire courses like the ones at the General Assembly.  We are also huge fans of  Udemy and Treehouse which we know many of our candidates have used in the past - they will help you quickly acquire some extra UX/UI knowledge and take your skills to new levels.
Redesign Your Folio
Portfolios can fast look dated, make sure you're always looking to improve and add to yours. Look to redesign the layout, look to re-platform your website, your folio is your shop front.  You need to lure people in and keep them interested, make them want you. Take a look at other designers' portfolios who you admire; how are they doing it? What makes them stand out? Use your creative eye and always critique your work. You should be spending a couple of hours each week keeping your folio up to date. Start now.
Keep Connecting 
While the word "networking" is slightly grating at times, there's something to be said for chatting to the right people in your field or attending local networking events. Following designers and creatives on social can also be useful, not only to inspire you but also for a spot of online mentoring. The wonderful Marcus Michaels on Instagram is great for that and often dishes out coding tips or answers questions from those looking for advice.
Embrace Change
You can't run from it or hide from it so you must embrace it! Don't be worried about failure, all the great entrepreneurs have made mistakes and fear should never hold you back.  Change is good and is vital if you are to stay relevant in the creative industry. As Elbert Green Hubbard, the artist and philosopher once said: "The greatest mistake you can make in life is to be continually fearing you will make one."
Good luck, and remember to visit our jobs board for all our latest roles: wordpress-545250-1747525.cloudwaysapps.com/jobs
Plato once said, "music gives a soul to the universe, wings to the mind, flight to the imagination and life to everything."
Having spent 15 years in radio, most of them at BBC6Music with a radio on 24/7 while beavering away at work, I honestly believe that music has been a force for good in driving up my creativity and productivity.
But was I wrong? You see the science around all this is very mixed.
Firstly in the music corner...
Research carried out by Goldsmith's College in London found that when it comes to listening and work performance, more than half (52%) of listeners say they wouldn't be successful at work if they didn't listen to music.
"Generally, music can have a strong stimulating effect that makes us alert and focused," says Daniel Müllensiefen, a professor of music psychology at the London University.
However, psychologists at the University of Central Lancashire and the University of Gävle in Sweden, who conducted an experiment on background music and how it affects performance on creative tasks concluded that (drum-roll), "background music of any kind seemed to be a major distraction for the participants as they tried to complete their creative tasks."
In particular, study boffin Dr.Neil McLatchie claimed that music with familiar lyrics significantly impaired participants' creativity and focus, "regardless of whether the music also boosted mood, induced a positive mood, was liked by the participants, or whether participants typically studied in the presence of music."
So, if the science around all this is startlingly contradictory what do the people in the creative world think of music and their productivity. We put a question to our wonderful creative designers on Twitter.
Ask and you shall receive...
First up Charlotte, who has gone for music with lyrics. We'll admit this is a guilty pleasure of ours, but we do wonder if a rendition of A Million Dreams while working would truly help. We'd be inclined to agree with the studies claiming lyrics are counterproductive.
Maybe freelance designer Anna has the right idea with her "carpet" music...
Some of you break it down by task, we're guessing faster beats = faster work pace...
Turns out music isn't for everyone though, Elaine a designer from Detroit needs the volume dialled right down...
Now, while none of this is pure science, it does show that we all have different ways of working. Music for most creatives it would seem can give them the edge.
Myself? Well, I'm certainly not a lyric man and would sway more towards the tastes of Daniel, a motion graphic designer...
One thing we do know is that right now there has never been a greater time to explore what style of music (if any) works for you while you work.
Spotify has curated playlists that include, "Beats to think to" or "Music for Concentration".
Being a designer or a creative on days when you're not doing client meetings or making phone calls, often means you can put the headphones on and crack into your work. It's a luxury say, bankers or customer services staff don't have.
As Truffle Talent's social guy, I'm always listening to music, it helps the flow and can spur my creativity.
I work remotely and need to feel like I'm not completely alone.
So, I'll leave you with my own headphone moment and hope you'll indulge me for 5 minutes while you work...
Happy listening.
Written by Adrian Larkin, Truffle Talent's Social Media Director.
Interviews for most people are pretty nerve-racking experiences, so being as prepared as you can is key. Of course, that's not exactly rocket science, it's just common sense - but it's easier said than done. Here are a few simple tips from us Trufflettes to help you along the way so you can nail the ultimate job in 2019...
01 | Be honest. If you don't know something admit it, don't try to BS your way through it. What a car crash that would be. Also, do tell them your expectations, and talk through what you're looking for. Tell them what you think of the brand, the role, where you excel, areas of improvement. Honesty is always a good thing. Straight talking works.
02 | Be yourself. As headhunters, we know that people hire people. The skill set and experience are, of course, important, but what sets you apart from the next person will be your personality. Get to know your interviewer, ask questions, be friendly. Try not to feel intimidated, we are all human.
03 | Research. Please research the role, the company and the people you are meeting. Why? When you feel well informed you will naturally relax into conservation. We've all had those casual interview chats where they blindsided us with something we could've known if we had only researched! Then it all went downhill from there.
04 | Wear something comfortable! What you wear has a big impact on how you feel, make sure you find the perfect balance of awesomeness and comfort. You do not want to be sitting there fidgeting uncomfortably or sweating away, or wincing because your pants are up your bum, even worse, all of that at the same time! You simply will not be the best version of yourself. Relax, feel good, and be amazing.
05 | Push the negatives aside. 60% of us have had bad jobs that we lose sleep over. That's most people. It knocks our confidence and makes us question our value, both inside and outside of work. Don't start your next chapter in the past. Focus on your own future, your gain, on you!
06 | Practice. You might prefer watching paint dry to running through a series of interview questions over and over again before the big day, but it pays dividends. Get a friend or your partner to be the interviewer firing questions your way. When the nerves kick in you'll have trained the brain to structure your answers and won't be rattling around inside your head seeking out case studies and the like. Sure, it's fine to inject a different kind of energy on the day so you're not giving canned responses but knowing what you're going to say and the examples you'll use will give you a 'power up' in the room.
07 | The 1st 5 Minutes. Like it or not, some research shows that employers make a decision on whether they should employ you or not in the first 5 minutes and then spend the rest of the interview looking for things to confirm that decision. While that sucks, give yourself the best chance of success by greeting the interviewer properly and come in with bags of enthusiasm so you stand out. We wouldn't advise practising your one-liners at this point! Be your lovely self.
So, good luck and don't forget we've lots of jobs to fill so if you're looking for perm or freelance roles, please take a look here and you might be putting these tips into practice for real!
It's that time of year when we all scratch our heads and wonder how on earth Christmas has come around again so quickly, and now the enormous task of finding the right gifts for all those special people in our lives.
Well, we've come up with 7 ideas for creative peeps that will have stockings filled quicker than a Bansky picture getting shredded...
01 Women Design Book 
This book really does it for us. As two female bosses, we are moved by these inspirational designers from the world of architecture, product design and digital. It's a brilliant book and one to have out on the coffee table so when you need some magic in your life you can turn the pages and be utterly inspired.
Priced at £20 from Counter-Print.
02 Sakura Pigma Micron Blister Card Ink Pen Set
Who doesn't like a little doodle or a sketch every now and again? With these pens, your creative friend will be in safe hands. The online reviews are great and as the description says you'll "experience smooth, skip-free writing and crisp ink colours that leave consistent lettering and lines every time." It's on Truffle's Social Media Dad's list.
Priced at £1.65 a pen from Graff City.
03 Newby Teas 
Every creative needs a nice strong cup of tea to keep them going, and the wonderful guys at Newby have "painstakingly sourced, blended and preserved" some of the world's finest teas. Our pick for Christmas is the Alpine Greeting Silken Pyramid Assortment which is the jewel of their gifting range.
Priced at £35.00 from Newby Teas. 
04 Wall Art 
The turning of a new year is the perfect excuse to subtly refresh someone's wall and East End Prints is our tip for show-stopping contemporary art. You'll also have the feel-good factor as everytime you buy a print they donate to the Cool Earth Charity.  Our pick of the bunch is artist Oshe POP! aka Stu Watkin.
Prices £19.95 upwards from East End Prints.
05 Subscription to Posterzine
Posterzine is the only poster in the world that is registered with the British Library as a magazine. The idea is simple. They comission some of the world's leading visual artists and designers to create beautifully printed monograph magazines that fold out into a large format poster. Your creative friend is going to love getting one of these in the post every month.
Priced at £37 for 6 issues from Posterzine
06 BUBM Cable Bag
As recruiters, we know a thing or two about our creatives and one thing we're sure of is somewhere they'll have a drawer full of tangled cables for all their tech. That's where the Cable Tidy Bag comes in, it stores loads of stuff and can be carried easily in another bag. No more untangling needed, just more time being creative.
Priced at £7.99 from Amazon.
07  Minipresso Portable Espresso Machine
The Minipresso Portable Espresso Machine is genius and the perfect gift for the creative freelancer on the move. It doesn't even need batteries, so working remotely on the hoof, no problem. Simply keep it filled with hot water and coffee grounds and an espresso can be ready within minutes, wherever they chose to work.
Priced at £49.95 from CuckooLand.
By Truffle Talent's Adrian Larkin...
Some people might say the self-portrait I did for my GCSE art project was the scariest thing they've ever seen, it was certainly a horror show from start to finish. But taking a deeper delve into art and the dark-side of Instagram we've uncovered pieces that are equally if not more terrifying...brace yourselves art lovers.
01
Jamie Betts is a photographer from Virginia, USA who posts some quite spine-chilling photos on his Instagram. Many of the shots from abandoned buildings look like they belong in the upside-down world of Stranger Things. But all hail his brilliance for creating shots that ooze horror, leave the lights on when you leave.
02
Salvador Dali doesn't need much of an introduction. This painting; "The Face of War", was painted in California in 194o, between the end of the Spanish Civil War and beginning of WW2. Interestingly, Dali has stressed that it was the only work where one could see the true imprint of his hand on the canvas (at the lower right). Now we really are spooked.
03
Make sure the kids aren't looking over your shoulder when you explore the work of @Mothmeister on Instagram. This pair of artists craft what they describe as scenes from a "Wounderland" where grotesque, emotionally distraught and anonymous characters are accompanied by taxidermy animals.  It might surprise you that they've actually amassed a huge following on the platform. They've even launched a book called Weird and Wonderful Post-Mortem Fairy Tales. It's not exactly bedtime reading for us parents.
04
You thought we'd pick "The Scream of Nature", didn't you? Well, Norwegian painter Edvard Munch had a few foreboding paintings. Renowned for his expressionism and symbolism, in this painting, "Death of Marat I" he shows the stoic murder of famous French Revolution thinker Jean-Paul Marat – confined nearly all day to a bath due to a skin disease. Not pretty.
05
Dariusz Zawadzki is a modern artist from Poland. His paintings and drawings are right out of the top drawer of a horror flick. From the surreal to the completely grotesque, the great thing about Dariusz is he is a self-taught talent and claims his work springs from dreams and visions. We recommend he takes a natural sleep remedy for that.
06
We don't know much about this next Instagram artist, Dusty Ray aka SloppJockey but that's probably a good thing. What we do know is, he is from Colorado, makes a living selling his art on Etsy and describes his work as "gouache and oil paint debris". We call it macabre but clever!
07
Lastly, when we say "Andy Warhol", you probably think pop art paintings and a gold Marilyn Monroe, but he had a dark side. The piece below is called, "The Big Electric Chair" and is based on a press photograph from 13 January 1953 of the death chamber at Sing Sing Prison in New York.  It's where American citizens Julius and Ethel Rosenberg were executed for giving information about the atomic bomb to Russia during the WW2.  Warhol also played around with police photos of suicides and car fatalities. Right, we're getting the jitters and need to sit in a comfy chair that looks nothing like this one.
We started Truffle with the view that once the initial invoices were paid our next step would be to invest in an office. We did exactly that.
Truffle joined friends that ran another independent agency in their Shoreditch space. We bought some mugs, took over a couple of shelves and started browsing comfy office chairs. Why aren't we there now? 2 months after moving in we had used the office 4 times. Why? People are busy and it makes more sense for us to hook up nearer to their space, gives both parties more time to chat.
Plus, going into the same office every day felt a little stale. One of our key drivers for setting up Truffle Talent was to not be in a 9-5 environment.
Let's also not forget the rush hour commuting and those train fares going up.
Over 5 years in and we have no Truffle home (sty). We're very happy nomads. But why exactly? Well, here's our take on remote working the Truffle way...
Emma, Chief of Truffle HQ
Technology is amazing, I could be halfway up a mountain and still reply to my emails.
No rush hour, cattle like commute with armpits in your face.
I can make coffee and work at the same time: just move my laptop to the kitchen.
Need a little brain/space break, I can work anywhere: I love a change of scenery to get the inspiration flowing.
I still get my watercooler chats, we phone each other: it's very important to know what's hot on Netflix.
My greatest love of remote working. I'm a parent. I love Truffle and I'm very proud of our agency. We're on call 24/7 and check our emails when we wake and before we sleep.
Equally, I'm on-call with two bonkers kids. By working remotely I can be there for Easter Bonnet Parades, Book Looks, Open Days  - plus can check my emails anytime!
Mish, Chief of Truffle Towers 
In Truffle Towers our work is full on, 1000 miles an hour, non-stop, busy productive chaos and I wouldn't have it any other way. I am the type of person who thrives on the pressure of a deadline and spinning a zillion plates. It makes me tick. However, add to this two small children, school/ nursery/ childcare arrangements, bills (so many bills), a kitten, a husband, food shopping, cleaning, trying to keep fit, eating healthily and maintaining my sanity – well that's when a good work-life balance means the difference between success and failure.
Top reasons I love working remotely:
I don't have to face the rat race and spend over an hour commute each way each day.
I love sneaking off to pick up my kids from school when I can.
I can jump into the amazing chaos of London when I want to, and out again before rush hour.
I can work in my jimjams when I want to.
I work more effectively because I'm content with the balance.
Adrian, Chief of Truffle Social Space 
I used to sit on a bulletins desk in a BBC newsroom for 10 hours straight, and sometimes I'd start work at 5 a.m. I'd get 30 minutes break if I was lucky in between reading the news on the radio. That work pattern, when kids came along, began to take its toll. It was energy sapping and the constant on-air deadlines and shifts made it hard with a wife who was putting in 12 hour days in the city. I reinvented myself, started working from home and I will never look back for these reasons:
Health. I can look after myself more. By that I mean, I'm able to slot in a gym session or take 30 minutes of mindfulness in a peaceful environment to recharge, and I'm better for it. I found when I was commuting and up in London, I always had colds in the winter or was ill at least once a year.  Since being a remote worker that's dropped right off. I can't remember the last time I was properly sick.
Kids. All this started because of them. So being here for school runs, and pickups have turned what was a Benny Hill show into a finely tuned machine.
Creativity. I love being able to pick and choose where I work. I can set myself up exactly how I like it, my desk facing a window, music playlists that are stimulating and good coffee on tap whenever I need it.
Freedom. I can go away for a break and be completely remote, the guys know I will still be across our social networks, even from the mountains of Haute Savoie.
You want the best talent, and so does everyone else!
Indeed, we've had an interesting few months at Truffle Towers.
Hiring staff has become a lot more complicated, competitive and cut-throat. Think of it like the '90s student fave game show Supermarket Sweep (we loved Dale). Manic contestants grabbing items of any value off the shelves from a budget looking supermarket in 60 seconds. They obviously went for the high-value items first. The booze, CDs, DVDs…
So, why the 80s/90s analogy? Because we are back to the grab the high-value items as quickly as you can market.
It feels sad to compare people to products but in reality, this is what is being traded.
Which leads me into the high-value humans.  They currently stand as the following: UX, UI, Digital Designers, Social Media Specialists, Front End Developers etc. They're being stuffed in that trolley, grab them while you can.
In the last month we've seen:
salary bidding wars where the candidate's expectation almost doubled
freelance rates for clued-up social juniors rise to the equivalent of a senior candidate salary
strong candidates receiving up to 8 offers in a couple of days
high numbers of junior to middleweights opting for freelance due to a buoyant contract market with day rates at a peak
more people shedding ties and trying their hand at remote working
It's like a recruitment Game of Thrones out there and only those who are quick to react, and in tune with the financial expectations of the market seem to be surviving.
We've spent a lot of time questioning it, but without question, Brexit is causing this change.
You see, there's still much uncertainty with regards EU workers rights. Initial proposals suggesting employees with stable long-term positions will be looked upon more favourably than those working independently means there's been a rush to secure the best EU talent. This alone has raised the financial bar.
We're also seeing less global talent approaching the UK market, therefore, creating a more competitive 'available' market.
Beyond this, there has been a sea change.
These are our thoughts:
Middleweights are high-value items
We are in a constantly evolving digital market where the digital natives provide amazing insight and inherent value, everyone wants them, just with a few years under their belt in a professional environment.
This has produced a very narrow basket of a much sought after middleweight market, those with 2-5 years experience. This is precisely the talent that wants the flexibility of remote working and the pay cheque of freelance.
Is your social presence damaging your hiring?
The companies that are capturing the top talent are the ones that are well versed on their USPs (will sell themselves in interviews), partner their employees in their career goals and have a reputation for an excellent workplace culture.
Having a top name in the industry is no longer enough, any negative reviews on social or sites like Glassdoor might be discovered and can be enough to tip the balance in another company's favour.
When recruiting in a competitive market, a strong social profile is key. Everything from your tone of voice to the handling of negative feedback is on show. No company is infallible; encouraging your staff to be your company's social advocates is a great start. Making sure all your channels are flooded with engaging, informative and relevant original content that is reflective of your brand is also key.
Beanbags and a pool table are not a benefit
The days of attracting talent because you have a games room with table football and a free bar are over.
First and foremost people look for challenging and folio worthy work as well as recognition, opportunities, a nurturing and collaborative environment, training, and a company that supports the ambitions of its employees inside and outside of work.
If you're stumbling at the offer stage then we would really recommend looking at your benefits package. Along with private healthcare, the ones that tend to get the most positive reactions are those that show investment in personal development such as training courses, inspiration trips and mentoring opportunities.
No.1 benefit: Flexible working for everyone
We have a very personal interest in this. For anyone who has read our blogs before our company is made up of 4 parents with 10 kids between us; all of us take the primary parent role and guess what, one of us is a guy!
Flexible working isn't just invaluable to parents it's a major investment in staff happiness, health and therefore retention. It offers a whole company an even playing field regardless of their life choices, which in turn fosters an overall feeling of unity.
Offering flexible working hours and a good number of flexible WFH days that are considerate of doctors appointments (no one wants to take a half day holiday to attend to their health, it's counterproductive, holiday = health), the need to attend school plays, sports day, college graduations, yoga or anything that brings balance back to their work and home life.
Interviews are not interrogations
The days of 5 + rounds of formal interviews are dead!
The danger is, by the time you have planned round 3, these guys are employed.  What's more, very few people, if any, can show their true colours in a setting which seems false and overly formal.
That's not to say that there shouldn't be a structure to the interview but like any meeting you should share the format and expectations in advance, this will enable you both to have a productive conversation.
You may be a company that has a policy of testing in interviews (whether that be skills or psychometric), surprising people with this detail on the day does not necessarily show how they cope under pressure; your interview can be peppered with questions that will draw out this information from real work-life scenarios. It is a major turn off to most candidates.
No one in that meeting holds more power. If you conduct interviews believing that because you hold a vacancy you have the upper hand, you're very wrong. You're also just an employee of a brand. A brand that you were also once attracted to work for.
So, in the end, a competitive market requires a shrewd and canny response, it's time to react quickly, be ultra competitive and bring out your best game face.
Adrian is a former BBC journalist turned social media strategist who now manages all of Truffle Talent's social channels, he's also father to 3 girls. Busy? Surely not!
6am....
As a stay-at-home working dad looking after 3 girls my day usually begins like this...
7am...
While I'm making my kids' breakfast i'm also firing up the phone checking Instagram and Twitter to see what activity has come in over night. Truffle is a global talent agency with followers also outside of the UK (mainly Australia and US) and while we're catching Z's they're active. I'm keen we develop those relationships so i'll respond to any comments or likes as soon as I can and get a head start on the rest of my day.
8.30am...
School run. Weep.
On the walk back from school i'm already sieving through the news on my phone in case there's anything that can be news-hacked for our own social. I'll also pick out interesting posts in our feeds that might resonate with our brand. I use the Pocket App to save articles so I can come back to them later on.
9.15am..
Phew...I'm at my desk with a freshly poured coffee. The desk is actually my living room table (with lego all over it) and I like it that way.
Us Trufflettes all work remotely and take pride in doing that. Founders, Mishel and Emma, champion a remote working culture because they know, from their experiences, it impacts positively on productivity, happiness and general wellbeing and gives us all more family time. Plus, when we do meet up to work as a team (in a favourite lunch spot), it's extra special. We collaborate frequently using Google Hangouts, so once my laptop is powered on i'll ping over a message to see if there's any jobs that need particular candidate focus and will prepare any posts around the needs of the business.
10-12pm...
I'm always at my most creative in the mornings before lunch, so it's then that I'll start creating the social media content. Generally this will involve creating GIFS, videos, and making images. I'll work from an ideas scrapbook that I'm constantly updating which feeds into a structured content plan aligned with Truffle's overall business strategy.  Ideally i'll make the assets ahead of time then schedule these into Buffer or Hootsuite to save me doing it on the fly. The whole time I'm doing this I have all the social feeds open in a deck so I can monitor activity and carry out responsive when needed.
12.30pm...
Lunch. Step away from social media. I've stopped checking my own personal channels at this time as i'm worried it'll lead to a social burn out. I'll panic instead. I haven't got any food out of the freezer for my kids' tea, gulp.
1-2pm...
Back on it, creating more unique content. Very often, if i'm making videos in Final Cut, I will find myself working on it throughout the day, as I am constantly juggling everything else.
2pm-3pm...
I usually put aside 1-2 hours a day to work on audience development, which helps grow our channels but more specifically can help root out new candidates for jobs and might also create leads. Using tools like Twitonomy and FollowerWonk  i'll search people's bios and track activity through keywords linked to our industry. It's time consuming but vital for us as headhunters if we're to discover new and exciting talent.
3.30-730pm...
Back to being stay-at-home dad, but if the truth be known I'm still very much across all of the social on my phone and commenting, liking posts and engaging with people as much as I can. It helps if the kids keep themselves busy, but expect the unexpected, like one of them placing slime into the back of the TV set.
8pm...
There's no time for Netflix! As a social media strategist i'm everything from a copywriter, designer, media planner, photographer, video editor and, drum roll....analyst.  But, because the analytics is the least creative thing I do in my day, I leave it till the evening when I can crunch numbers and reflect on all the content that's gone out. I'll use a range of tools to do that - everything from native analytics to sites such as Komfo or SproutSocial. I'm always testing new tools.
11pm...
Another glance over all the channels to check all's well, and then the phone is switched to airplane mode and I hit play on my mindfulness track in Spotify! Sleep. Bliss.
Follow Truffle on Facebook, Instagram or Twitter and connect with us on LinkedIn.